Frank and Laura Smock Memory Enhancement Center
We are proud provide the utmost level of specialized, attentive, respectful, and comprehensive memory care available for individuals dealing with Alzheimer's, dementia, or other memory-related conditions. Our memory care community is designed with a homelike ambiance that accentuates familiar surroundings and structured activities, fostering a sense of freedom and helping residents maintain and potentially improve their memories.
If you'd like to arrange a tour or speak with a member of our team, please don't hesitate to get in touch with us today. Read on to discover more about the unique memory enhancement offerings within our community.
Individualized Memory Care and Support
Our memory care programming and life stations focus on the use of remaining strengths and abilities for those in the early to middle stages* of Alzheimer's or other forms of dementia. In our dedicated memory care neighborhood, a homelike design surrounds residents with familiar settings and structured activities to help them experience more freedom, as well as to maintain and enhance their memories.
Our memory care programming features:
A specially trained staff skilled in interacting with and engaging those with memory loss
Advanced architecture and technology allowing more interaction time with residents
An environment of energy, stimulation, and generous natural light
Programming that activates and stimulates the mind through use of the hands and the five senses
Personal assistance with activities of daily living, rehabilitative therapies, medication management, and preventive and restorative care programs
A Day Away adult day care services to allow family caregiver time to attend to their own needs
*Late stages of Alzheimer's or other forms of memory loss are accommodated in Peabody's Health Center in a neighborhood of dedicated rooms.
Explore the Services and Amenities at Our Memory Care Community
Our North Manchester community consists of a setting of familiar comforts and hospitality. Residents enjoy an array of life-enhancing services and amenities, including:
48 oversized private rooms
Full private baths featuring showers
Individual temperature controls
Indirect cove lighting to enhance comfort
Wireless staff call system
Electronic card reader at each door
Three restaurant-style meals per day, including many made-to-order items
Daily housekeeping
Personal and flat laundry
Spa for hair care, whirlpool bathing, and aromatherapy
Social services support and counseling
A variety of worship services, pastoral counseling
8 Dimensions of Wellness Programs
Offering a Break for Caregivers
Looking after a person with Alzheimer's or another form of dementia can take a heavy physical and emotional toll. While you want the best for your loved one, and you also need to care for yourself to be the best caregiver possible.
With A Day Away Adult Memory Care Services at Peabody, you can take the time to work, run errands, or simply have a break knowing your loved one's day is planned and secure. From a few hours to a full day, Peabody's adult day programs offer companionship, personal care, medication administration, nutritious meals and snacks, and even transportation to and from A Day Away.
At Peabody, we are here to help. For more information on our adult day care rates and hours, call (260) 909-8082.
3D Floor Plan
Multiple floor plans are available to meet your unique needs at Peabody. Contact us to learn more about additional options, based on current availability.​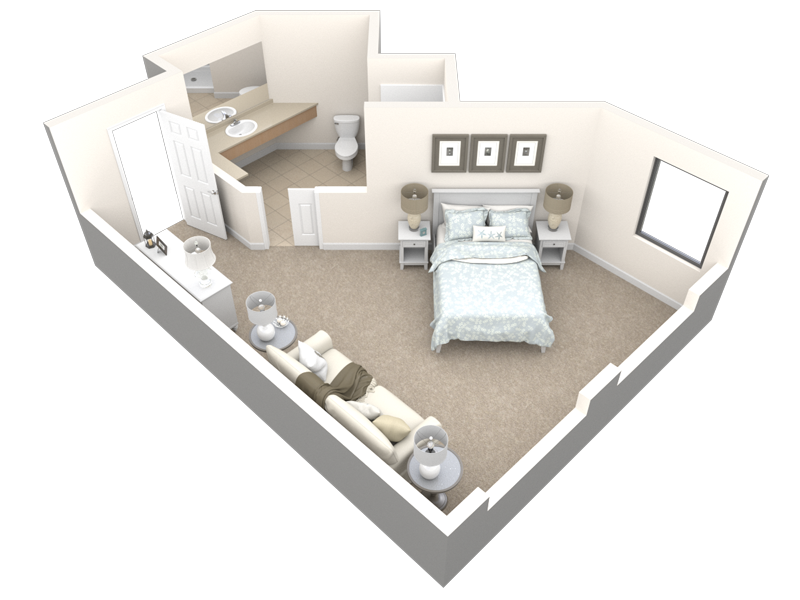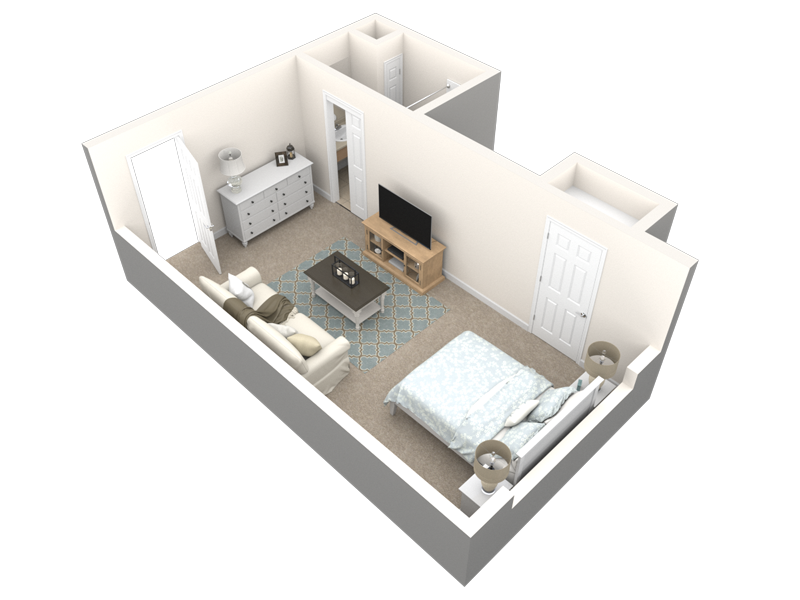 Renderings are an artist's conception and are intended only as a general reference. Features, materials, finishes and layout of subject unit may be different than shown.
Contact Our Memory Care Community Today
To set up a tour or for more information about personalized memory care and support in North Manchester, Indiana at Peabody Retirement Community, contact us today.